If you're brand new to blogging, you're in the right place.
First, check out this video that describes what exactly a blog is.
How to Comment
For our brand new bloggers who may have never commented on a blog before, I've made you this quick tutorial.
Permission
The next step if you're blogging with students is to make sure you have all the permission you need. This post will help. It outlines a three step process we recommend and includes sample notes you can use too.
Starting Your Blog
This new 15 minute video tutorial walks you through setting up your blog. It's like a quick start guide to get you going if you're totally new to blogging.
Want to go over some of the topics covered in this video again?
Here are the links to the specific written tutorials.
Note About CampusPress
Before signing up with Edublogs, you might want to check if your district or state already has a CampusPress subscription. This is Edublogs with your school's own branding and some premium features.
If your school or district does have a CampusPress subscription, instead of going to edublogs.org to get your blog, head straight to your CampusPress site.
For example if you're a teacher from a government or Catholic school Victoria, Australia, go to Global2. If you're a Tasmanian teacher, head to XPress360.
Help and Support
Now it's time to explore our help and support site further. This is the place where you can find everything you need to know about setting up and customizing your blog.
Make yourself familiar with the search function and the user guides.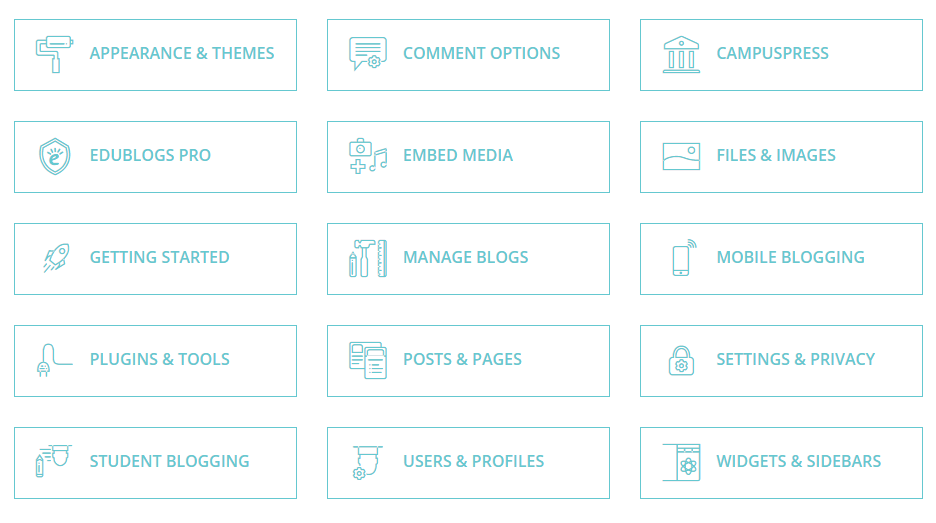 Note: All the Edublogs help resources also apply to CampusPress blogs.
Further Reading
Contact Us
Need more help? You can email our support team any time.