Welcome
We are so glad to have you on board. If you haven't already checked the Introduction to Better Blogging With Students post, please head there first.
I have posted a five minute introductory video for you and an outline of what you can expect from our ten weeks together. We also took a look at what exactly "better blogging" might mean.
Week One
This week's topic sets the scene for establishing or improving your classroom blogging program. You will be offered some ideas, examples and prompts to help you reflect on what it is that you want to achieve with your students.
Let's get started!
What Is A blog?
Before you skim over this question, let's take a moment to define what exactly a blog is. This question is becoming harder to answer as the lines between blogs, websites, ePortfolios and other online spaces blur.
BLOG
WEBSITE
PORTFOLIO

Dynamic Community

Feedback and interaction (comments, sharing, subscription, and RSS)

Typically journal-like

Static information 

General term for online space — complex or simple

Scaffolding, showcasing or organization of student work

Typically over period of time (years)
FUN FACT: Nearly one third of all the websites online are built with WordPress (including Edublogs and CampusPress sites). Some WordPress sites are set up more in a 'website' style and some are more like blogs or portfolios. So you can see the flexibility of this popular platform.
Why Edublogs /CampusPress/ WordPress?
There are a lot of conflicting opinions out there about the best platform for classroom blogs.
A key consideration when choosing your blogging platform is, "is it export friendly?" We believe that student work should always be completed on a platform that allows the student to archive their work or take it with them. This is just one of the reasons we believe Edublogs or CampusPress is an ideal option.
You can read more about which of the popular platforms are export friendly in this post. 
At Edublogs we offer 24/7 email support and we are designed for education.
Our platform is user friendly, safe and highly customizable.
What's not to like?
What Are The Benefits Of Blogging?
Last year, I published a post on The Edublogger that described ten reasons why every educator should start blogging. You can find an infographic summarizing these benefits below.
Be sure to check out the original post if you want to find out more about the benefits of blogging, or convince colleagues or school leaders to support a blogging program in your school.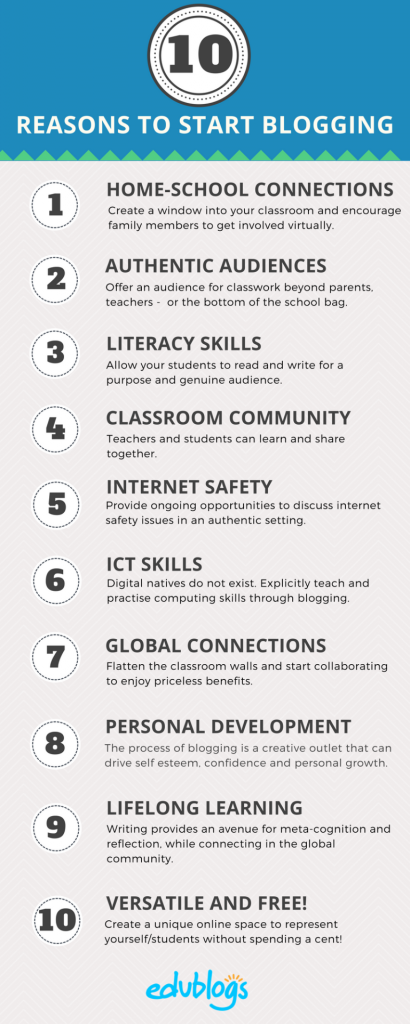 We also love this quote from Will Richardson in his book, Why School?: How Education Must Change When Learning and Information Are Everywhere.
It sums up a model of schooling which would be most beneficial to our students, don't you think? Blogging is a tool that can be used to fuel this sort of classroom program.
Why Do You Want To Blog?
This is a big question!
Many educators use blogs for the following reasons:
To share information and class news with families and the school community.
To provide students with a way to access assignments, homework, resources, and information about their class online.
To showcase, amplify or reflect on student learning. 
For global collaboration and to offer students an authentic audience for their work.
To authentically teach a whole range of skills including traditional and new literacies, digital citizenship, and ICT skills.
Our state of educational blogging survey results from last year show us how blogs are most commonly used.
One school of thought suggests that you should not start a blog before you have a clear purpose in mind. My thinking isn't this rigid.
I believe a vision is always going to be helpful but sometimes you really don't discover your true purpose for blogging until you get into it. In fact, many of you may have been blogging for a while and feel like it's now time to regroup and consider your direction.
Whatever stage of the journey you're at, it's a worthwhile exercise to spend a few moments pondering the following questions:
Who will your audience be?
Who will be writing on the blog?
How will blogging be integrated into your classroom program?
Will your blog be public or private?
What makes a high quality classroom blogging program?
If you've never blogged, considering these questions can help make your future direction a little clearer. Having a bit of a roadmap in mind can also help when explaining your blogging program to colleagues, school leaders, and families.
If you're already blogging, you might consider which of these areas you need to focus on more to enhance your blogging program.
Let's take a look at each of these questions.
1) Who will your audience be?
An educator often begins a new classroom blog with a target readership of:
parents and the classroom community
students
other educators
Other audiences may evolve when you get started, such as other blogging classes around the world. Often, you may end up writing for multiple audience groups.
Having an idea of who you are actually writing for will determine the voice and content of your blog. If you'd like to read more about choosing your audience, check out this post from August 2017.
2) Who will be writing on your blog?
As I mentioned in our introductory post, when I first started blogging in 2008, I didn't really know what sort of blogging framework would work for my students and me. Sometimes I'd write on the blog. Sometimes students would write on the blog. And commenting was left to chance.
In hindsight, I didn't have enough scaffolding in place and I wasn't happy with the quality of our blogging program.
After a few experimental months of blogging, I reset and started to implement more of a scaffolded blogging framework.
This model suited the age of my students, our combined experience, our objectives and our equipment.
The progressive model I eventually adopted was as follows:
I established a class blog and wrote the posts while teaching the students to write quality comments. (Commenting is the topic for week 4 of this course).
As students became more familiar with blogging, some students started publishing guest posts on the class blog and learned posting skills.
When I was teaching grade two, had limited computers and was new to student blogging, I didn't think it was practical for all students to have blogs. Instead, certain students who had demonstrated enthusiasm, parent support, and blogging skills, earned their own blog. This added a new layer to the skill set of commenting and posting: maintaining a blog.
When I was teaching grade four, had a one to one netbook program and had experience managing student blogs, I set up blogs for all students, as digital portfolios.
Throughout all four stages, quality commenting and parent participation was taught and encouraged. (Helping students and families connect with your blog will be the topic for week 3).
Now, this model certainly may not suit you at all. However, many teachers begin with a class blog where the teacher posts and the students comment. This doesn't mean student work won't be shared on the blog.
Many teachers create posts that share students' writing or other work. For example:
Starting with more of a teacher-controlled blog is a great way to get comfortable and set expectations. As you travel further along in our course, you may like to keep in mind that aiming to have more student involvement at some point in the future can be advantageous. Even if that's just through encouraging student reflection in comments. Even this approach can be very powerful when done well.
The penultimate week of our course will be about student blogs and how they can be used alongside a class blog. Note: even if you're not ready to set up student blogs at the end of this course, it will still be worthwhile considering how student blogs can be used, and how you could use them at some stage in the future.
3) How will blogging be integrated into your classroom program?
Integration is key. We don't have time for add-ons, so it's a case of considering how can a blog enhance your regular classroom program.
Consider this:
Can some traditional analogue tasks be replaced (and enhanced) with digital tasks in your classroom? For example, well known blogger, Linda Yollis, swapped a traditional pencil and paper history lesson for a blogging task. Students responded to one another in the comment section from the point-of-view of the biography figure they studied. Helen Keller was responding to Louis Braille and President Lincoln. Neil Armstrong had a conversation with astronaut Mae Jemison. Parents got involved as well. Here blogging wasn't an add-on but a swap for a more effective activity.
Can certain tasks be done better or more quickly with a blog?
For example, can you spend less time on things like publishing assignments or parent newsletters by housing all this information on your blog?
Where can you slot blogging into the day?
Many teachers start the day (or class) with a routine. It might be running around the oval, silent reading, doing a weather report or looking at the news of the day. Are these routines still valuable? Could they be discarded, rescheduled or alternated? Could blogging be slotted into your opening routine?
Also consider:
Can you add blogging to your literacy block instead of a traditional writing or reading task?
Could a maths prompt be posted on the blog and students share their explanation through a comment or post?
Could your inquiry or social studies topic be explored through creating a post or multimedia for the blog?
Could some physical displays of artwork and other creations become digital displays on the blog with rich reflections?
Could traditional homework tasks become more meaningful blogging tasks? Eg. working with a family member to share insights in a comment.
Once you get the hang of it, it becomes easier to understand how blogging can be integrated into your classes. This is something we will explore more in our Facebook group too as we definitely want to hear everyone's ideas!
4) Will your blog be public or private?
This is a contentious topic in the educational blogging community!
On one hand, there are many benefits to having a public blog such as the unmatched rewards that come from an authentic audience and global collaboration. On the other hand, there can be a lot of fear from educators, administrators, and/or parents around student wellbeing, digital footprints and the workload of monitoring public blogs.
We have recently unpacked the topic of public Vs private blogs on The Edublogger. If this a dilemma you are currently facing, be sure to check out the post to develop your thinking and work out what would be best for you and your students.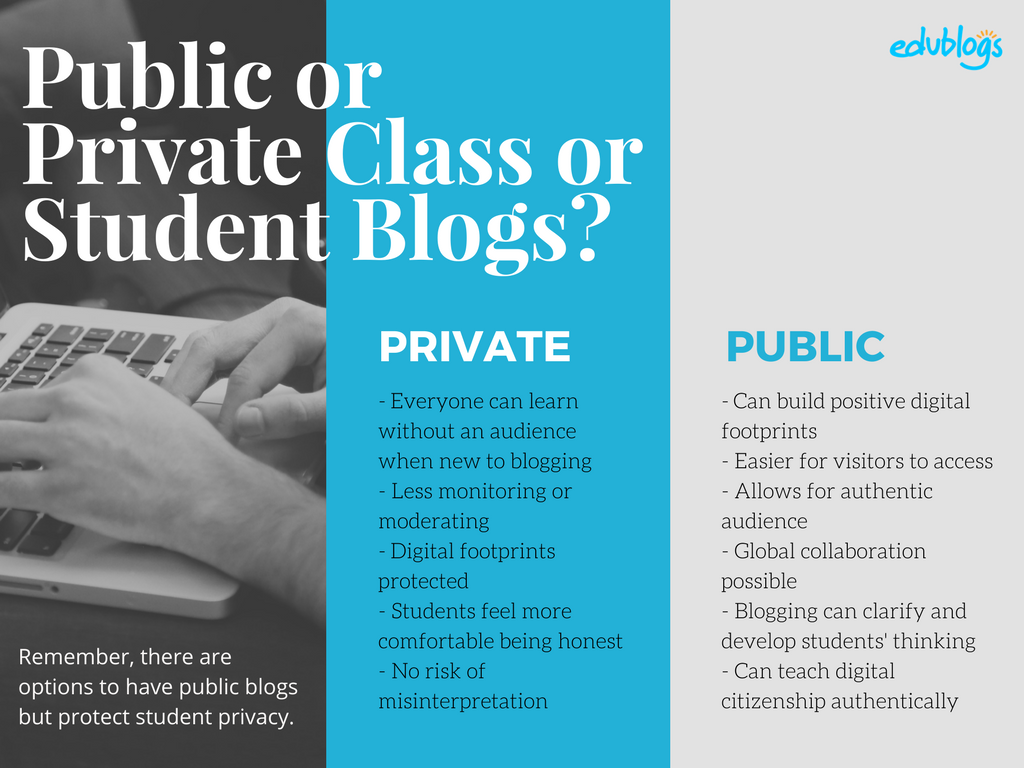 5) What makes a high quality classroom blogging program?
The aim of this course is to help you to not just blog, but to create a blogging program that is high quality, meaningful and beneficial to yourself, your students and your community.
In our introductory post, we looked at some common issues that educators face that can hold back their blogging program.
When looking at blogging (or technology in education), what does high quality mean?
We can look at this question in a few ways.
You might have heard of the SAMR model (substitution – augmentation – modification – redefinition). This model was designed by Ruben R. Puentedura. It helps educators think about how they're using technology with their students in order to have an impact on their learning.
The simplest use of technology involves substitution. For example, writing a story in a blog post instead of on a piece of paper. At the other end of the spectrum is redefinition where you are doing something that would not be possible without the technology (eg. connecting purposefully with students in another class on a shared project).
Silvia Tolisana shares some useful examples of how blogging can be viewed through the lens of the SAMR model on her blog, Langwitches.
Interestingly, some people see the SAMR model as a ladder where the goal is to reach the redefinition stage. Others do not and reason that it is perfectly fine to sometimes work at the substitution level.
SAMR is not the only model used to reflect on technology in education. Michael Gorman describes five ideas for going beyond SAMR, while AJ Juliani has blogged about TRUDACOT as a useful alternative to explore.
To return to our question of what makes a high quality blogging program, perhaps high quality means not only working at the substitution level. For example, if an educator is only using a blog to publish images of worksheets, then the potential of the blogging program is naturally limited, resulting in limited benefits for the students.
Personally, I found a shift in outcomes for my students when I raised the standards, particularly around writing on the blog and our interaction with others in our blogging community.
If students practice a poor standard of writing over and over, unhelpful habits are formed and the scope for improvement is limited.
I believe blogging can help students become exceptional writers when the following parameters are put into place.
The question of what makes a quality blogging program is an overarching theme of this course and is something we will continue to explore over coming weeks. I'd love to hear your own thoughts!
Explore Other Blogs
It's a fantastic idea to spend some time exploring other class blogs. This will not only give you ideas of how to integrate blogging into your classroom, but help you understand what makes a quality blog. Of course, commenting on other blogs is also an ideal way to start making connections with other classes.
Most teachers understand that when introducing our students to a new genre, we need examples or 'mentor texts'. We wouldn't teach a unit on poetry without reading any poems. And we wouldn't teach the conventions of persuasive texts without looking at any examples. In this spirit, it's important to take some time to look at the blogging genre too.
Where to find other blogs?
Here are three options to try:
We maintain a list of class blogs separated into year level and subject area. It's updated every six months or so.
I recently published a post on The Edublogger with 10 examples of class blogs.
Connect with others in our Facebook group and make a point of visiting their blog. Sue Wyatt is putting together a document in our Facebook group for educators interested in sharing their details and connecting with others. Find that here. 
When exploring other blogs, make a mental note of what you like and what doesn't work for you. Or, if you're keen, jot down some notes of your own so you can keep track of your thoughts and ideas.
Note: if you want to do this sort of exercise with students, you could give them a reflective Google Doc, like Kim Cofino did to record notes. Of course, they could do it the old fashioned way too!
Conclusion
We have covered a lot of topics this week.
Over the next ten weeks, you will develop your skills and habits to become a better blogger.
At the end of the day, the best way to learn is to start. Your first blog posts probably won't be perfect but that doesn't matter. Demonstrating to your students that you too are a learner and willing to give new things a go is an excellent trait.
So it's time to jump in!
Newbie Technical Checklist
If you're new to blogging or want to relaunch your blogging program with a new site, it's now time to complete a couple of steps.
This week we want to make sure all of you have the basics covered.
The first step is to ensure you have permission. I wrote a guide last year that should help to walk you through the process of obtaining permission to blog with students.
Once you have permission in place, we want to make sure everyone:
has a blog
knows how to log in and navigate their dashboard
can write a simple post
knows how to modify their blog theme, title and other basic settings
If you head over to our Beginner Bloggers page, you'll find a 15 minute quick start video I made to walk you through the process of setting up your blog. If you don't know how to comment I explain all about commenting in another short video. On this page, you'll also find all the links you need for additional help. Click here to get to our Beginner Blogger page!
It can feel very overwhelming to look at established blogs with lots of content and attractive features. Comparison paralysis or fear of imperfection is common when starting something new. Please don't worry!
Each week, we will walk you through a few more steps to build your technical blogging skills. Remember, if there is something in particular you want to learn about, you can visit our help site and/or contact our support team. (Note: the user guides are excellent and I use them myself regularly!).
Your Task
Each week we will be presenting you with a number of options for a task that will help you improve your blogging program.
While our tasks will mostly be practical in nature, this week we are setting the scene with a little reflection and sharing of opinions.
This week we would like you to complete ONE OR MORE of the following. Complete the task and comment on this post to tell us about it.
TIP: click on the post title and scroll down to find the comment box.
1) NEWBIES: New bloggers are invited to set up their blogs by following the instructions on the Beginner Bloggers page. Then leave a comment on this post to let us know how you went and share your URL.
2) GOALS: Consider your short, medium and long term blogging goals. Write a comment on this post and share what you would like to achieve in the month of January, throughout the ten weeks of the course, and throughout 2018 in regards to your classroom blogging program.
3) REFLECT: Leave a comment on this post that explains your initial thoughts on one or more of the following questions:
Why do you want to blog?
Who will your audience be?
Who will be writing on your classroom blog?
How could blogging be integrated into your classroom program?
Will your blog be public or private?
What do you think makes a high quality classroom blogging program?
4) CONNECT: Reply to someone's comment on this thread and offer them support and encouragement. We strongly encourage you to do this. There is so much to be gained from connecting with fellow bloggers!
Our Facebook Group
Once you have read over this post and completed your task by leaving a comment, it's time to head over to our Facebook group.
If you're not in the group yet, be sure to request to join and we'll let you in ASAP.
If you haven't seen it already, look out for our introductions thread where we invite you to introduce yourself to the community. See you there!
What's Next?
Coming up later this week: A Blogging Story from an experienced Grade Two teacher will be published on this blog.
Next Week's Topic: Quality Posts and Pages